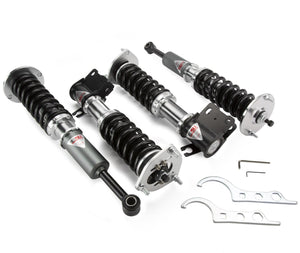 Silver's Neomax coilovers for the Tesla Model 3 is a highly performant yet budget friendly choice. 
This is a newly released model from Silver's, and SilentSpeed is excited to offer it.
Features:
Spring Rates: 12K

 front/9K rear

Rebound adjustable (24 clicks) with noticeable stiffness changes from click to click

Carbon steel 52mm diameter shock tube for corrosion resistance

44mm digressive piston, designed for both handling AND comfort
Monotube shock design 
Lower bracket shock length adjustability, independent of preload

Cold-bent springs made from high strength SAE9254 steel for stable elastic modulus

Powder coated steel lower brackets matching all factory brake line & ABS wire tabs, for seamless installation.
Anodized T6 6061 aluminum lower mounts for multi-link suspension systems to lower unsprung weight.
18 Month limited manufacturer's warranty
These are made to order with an estimated 20 day lead time.
 Custom spring rates available.