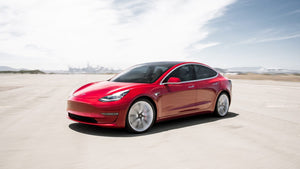 MSS Triple Engineered Technology adjustable spring kits put the driver in full control of their ride and handling experience. MSS utilizes two active springs with three separate spring rates: the single rated orange spring and the dual rated black spring. This combination delivers a huge range of capability in operation - a smooth and almost linear transition. The relatively low initial spring rate absorbs small bumps in the road, thereby increasing grip. It then transitions to a secondary spring rate which enhances vehicle handling during cornering, giving you the ultimate control of your driving experience. Thanks to its patented, triple stack spring technology, MSS can for the first time, deliver improved performance, comfort and safety, within one product - and without compromise.
Superior Performance
Two active springs and three separate spring rates deal with a much wider range of situations when driving near the limits. Distinct benefits from the reduced roll and pitch - whether it be dive or a squat, enables you to turn sharper, brake later and accelerate sooner respectively.
Unparalleled Comfort
Shocks and vibrations caused by bumps and the roughness of the road surface are both more effectively absorbed by the dual stacked, triple rated springs - rather than being transmitted through to the cabin as jolting and distracting road noise.
How it works
The black MSS Ride Enhancer keeps the MSS Ride Controller properly seated against the suspension, so you can push the limits of your car. When cornering hard and wheels lifts off the ground, the active coils of the tender spring hold the MSS Ride Controller in position. The central coupler provides a firm base for the springs to seat on. It retains spring alignment and help the components perform to their max. The lightweight, chamfered design of the coupler ensures the springs do not catch on the edges when in operation. The Ride Adjuster has been designed to enable ride-height adjustment to your specific requirements. At the turn of the wrench, you can fine-tune your vehicle for road, dirt and race circuit conditions. The orange MSS Ride Controller was developed by MSS and is manufactured by Eibach, the world leader in springs. It specifically works on enhancing performance handling and comfort on both wet and dry roads. Along with the shock absorber, the single rated, heavy duty spring stabilizes your vehicle during acceleration, steering, cruising and braking. This kit fits:
Tesla Model 3 - MSS part # 02aTESM3SN